Wood Carving Technique
My technique consist, in a first time in the realization of an idea which is rendered by different attitudes of figures moulded in clay. Clay is a material which is, in my opinion, the easier mean of expression, the most complete.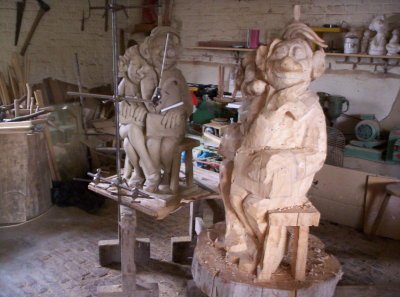 What I called the first time is the one of transcription from the earth to the taille du bois, noble material, solid and heavy. C'est le temps consacré à une technique compliquée qui nécessite beaucoup de patience et une maîtrise complète.
Je choisi des arbres de très gros diamètre, en orme, d'excellentes qualités pour la taille, sans nœud, sans contre-fil. Ces gros diamètres me permettent de sculpter dans les quartiers du tronc encore humide.
Je dégrossis à la tronçonneuse et termine avec divers outils tranchants. J'attends le séchage complet de mes sculptures, environ six mois, avant d'entreprendre la phase finale qui consiste à les peindre.
Polychromy
La polychromie consiste à déposer plusieurs couleurs sur la sculpture. Elles sont à base de très fines terres broyées, de diverses teintes, liées avec des colles animales ou végétales. Après leur séchage, elles sont fixées définitivement au vernis gras. Cette troisième phase est la dernière, elle consiste en une complémentarité de mon expression.