The artist sculptor
François Dufour is above all a statuary sculptor and an author. He observes the attitudes of men and animals in the everyday life. In his workshop in Neuville en Avesnois, in Northern France, he creates his figurines in wood, terracotta, bronze.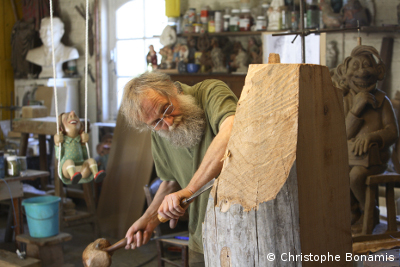 His sculptures
François Dufour made wood carving his favourite activity. In his workshop he represents his figures in clay, before going on their copying in wood. Then the sculptures are painted polychrome.
The artist goes further as he also creates sculptures in glazed terracotta.
When travelling through the Valenciennois tram line, you will be able to admire his works too. He is more particularly the author of «Poète pour la mine» (Poet for the mine), statue in monumental bronze proudly occupying a place of honour in Denain, hommage to Jules Mousseron and his figure; without forgetting his «Philoprof» striding along the University of Mont-Houy in Valenciennes, his satchel in his hand, lost in thought.
His figures
You will be a lot to think you have already seen those faces, those «funny faces» as the artist likes to nickname them. François Dufour is an artist of the human nature. He takes one's inspiration from what surrounds him, people, situations. At once realistic and caricatural, his figures of popular inspiration akin to the works of Brueghel and Bosch.