The Artist Sculptor
François Dufour was born in Valenciennes on May 4th 1950. He studied in Ecole des Beaux Arts of Valenciennes and Cambrai. He started to sculpt wood with his brother cabinet marker. He rapidly registered in the «Maison des artistes-auteurs» in Paris and established his workshop in Neuville en Avesnois. He sculptes wood, especially inspired by the qualities of elm wood from the remparts of Le Quesnoy.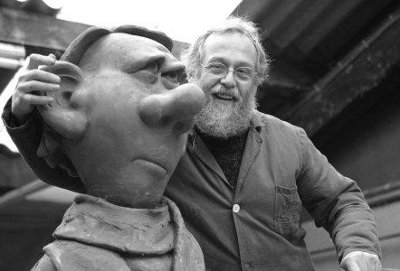 François Dufour and his «Philoprof»
François Dufour took part for a long time in exhibitions organized, each year, in the Grand Palais in Paris. His reputation has spread out also in Belgium for a few years, where population appreciate particularly the humour of the artist.